Welcome to the Sizzling Books Of Summer Giveaway Hop
If you are looking for the
Heros Of Summer Hop
please
Click here
to get to that Blog Post. But sign up for both for double your chances to win :)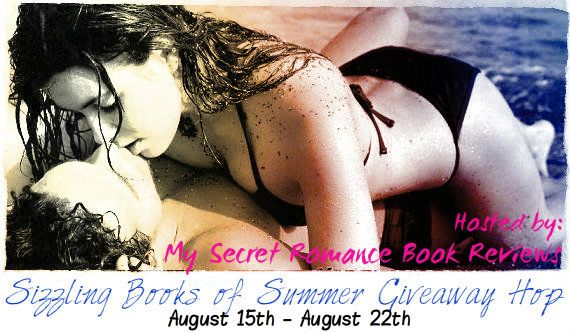 Let me introduce you to the Wiccan Haus for those of you who are new.
The Wiccan Haus is a shared world series, so the series is written by a handful of different authors. All bringing their own touch and characters into the series and the setting but always using at least one of the main Characters from the series.
The main Characters are the 4 Siblings Cemil, Cyrus, Sage and Sarka. Who you can learn more about
here.
Each one has a unique gift and each one their own issues.Also on the island are the Staff Rekkus, Myron and Serena, more Staff are added in every book so it will never get boring. To learn about the
click here
Every book tells brings you on an adventure sometimes the Young lovers will be human, some times Paras (as the Wiccan Haus refers to paranormal peeps) and sometimes its a mix of both. But every guest on that island is in need of healing in some way or another. Sometimes they just don't know it yet.
To start the series we have
Shifting Hearts
Sometimes it takes losing everything to find the one thing you need.
The last of his kind…
Rekkus is the last of the great Black Tiger weres and he is happy to stay that way. Working as security for the Wiccan Haus, a magical spa for inner healing, he has enough danger – and women – to keep him busy. Unfortunately, the Fates are not content with him being comfortable.
Alone and discouraged…
Dana has walked away from all she has known, her fiancé, family, apartment, and job. Now, having a ticket to the Wiccan Haus may be the only way she can move on. But what she finds isn't what she expects, nor is it what she thought she was looking for.
Meet the unusual residents of the Wiccan Haus. The staff can get a little hairy and not all of the guests eat what's served in the dining hall. But the proprietors always do what they can to make the resort into a place of healing and peace, using all of their years of practice. At the Haus, where humans and Paras reside side-by-side, everyone in need of the Rowan siblings' services are welcome.
WELCOME TO THE WICCAN HAUS.
He has nothing left to offer. She's determined to show him just how much he's worth.
Shot by a member of his own team, Justin Lawson retreats to Wiccan Haus. Holly Walters refuses to accept her boyfriend's out-of-the-blue rejection without an explanation, even if getting the answers forces her to be trapped on a bizarre island for an entire week. She's going to use every minute to work Justin out of her system once and for all. Justin's body and spirit begin to heal under Holly's loving ministrations. As she talks about never seeing each other again, he realizes he never wants to let her go. But The Rogue Assassin who had gone after Justin before is after him again. Before he can fight to make Holly believe in their love, he'll have to fight for both their lives.
A witch's spell great love may break
Aislinn never wants to see another doctor. Their painful and pointless treatments have done nothing to improve her rapidly deteriorating health. She hopes that the staff of Wiccan Haus can at least offer a change of scene, if not a return of a little of her former strength. She's delighted to meet Punda, a masseuse, on her arrival and charmed by the cottage in the apple orchard where she will stay.
Dr. Hugo Peralta visits the island at the insistence of his boss. The distinguished brain surgeon is in desperate need of a respite before overwork makes him one of his own patients. He is surprised but pleased with the privacy and serenity of his cottage—across the orchard from Aislinn's. An idyllic location on a magical island where love can blossom—if the Rowans can help the trio save Aislinn from whatever is killing her.
Loving her might just be the death of him.
When Coast Guard rescue swimmer Kaleb Theldon sees what he's sure is a mermaid pulling his partner into the murky depths of the Bering Sea, they call it PTSD. In order to save his career, Kaleb agrees to a week at an island spa off the coast of Maine. But the spa is nothing like he expected, and he isn't prepared for the sexy siren that crosses his path. But will her passion be more than one mere human can take?
Serena has a problem, and after four previous visits to the Wiccan Haus, she'd expected things to get easier. But on the mermaid's fifth visit, Kaleb walks in and everything in her life becomes complicated. Never has she wanted to mate with a human man before. But can she love a man who has a chip on his shoulder a league long when it comes to mermaids? Can she deal with her own issues all while keeping her true self secret from the man she loves?
And will loving him prove deadly?
This time, the staff have more than healing on their agenda. Can the siblings, Myron, and Rekkus prove to these two lovers that things aren't always how they appear on the surface? Or will Kaleb's demise be found in his Siren's Serenade?
Welcome back to the Wiccan Haus.
And Coming Soon VERY SOON
Death is a glorious thing when one can find a reason to live in spite of it.
I have roamed the earth for over three millennia alone, secretly hoping to one day find the other half of my soul. The one woman who would make my deadened heart beat once more. I never imagined I'd find her in a bloodied heap beneath the claws of a despicable Yazaron, the bane of my existence. I saved her and as a reward was given three days to make her love me or I would cease to be.
She spent those three days in ICU fighting for her life.
Fate, what a cruel bitch.
CONTEST TIME
Leave us a comment. if you have already read the books what character do you love the most or which one do you hope get their own story soon. If you haven't read the books tell us which one you want to read.
A lucky winner will win the Wiccan Haus ebook of their choice.